From spring to summer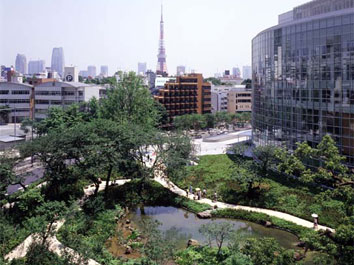 This year in Mohri Garden, spring starts with the cherry trees coming into bloom, and then the park abounds with the colors of spring flowers. When the blossoms fall, the trees come into leaf, painting the park in tints of green. Preparations are under way to welcome summer, accompanied by the cool sound of flowing water.
About existing trees and transplanted trees
This important cultural asset must coexist with a state-of-the-art redevelopment project. The developers also wished to retain the memories and special character of the land, so the work went forward before redevelopment to transplant, replant, and preserve the existing trees.
(E) =Existing trees: Trees that were on the land before redevelopment
(T) =Transplanted trees: Trees that were temporarily transplanted to another location at the time of development and then replanted in their original location
The flowers of April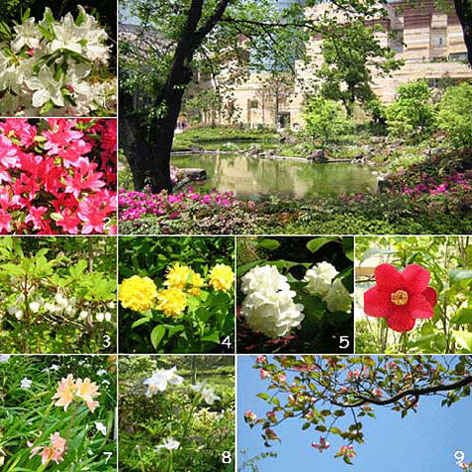 The garden is covered in a carpet of vivid azaleas. Japanese camellias bloom slightly out of season, and dogwoods that were present on the site before the development project send forth lovely flowers, and the feast of spring becomes that much more abundant.
1. Hirado azaleas
2. Kurume Azalea
3. Dodan azaleas
4. Japanese kerrias
5. Odemari
6. Japanese camellias
7. Renge azaleas
8. Fringed iris
9. Dogwoods ☆
The flowers of May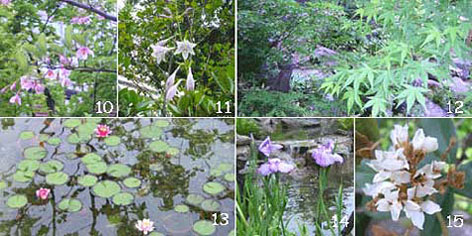 The water lilies of summer come into bloom on Mohri Pond, and the new spot-billed ducks and ducklings that have taken up residence make their appearance. The green canopy of the trees comes into full leaf to shield the garden from the hot summer sun.
10. Egonoki
11. Giboshi
12. Japanese maples
13. Water lilies
14. Water irises
15. Yeddo hawthorns
The flowers of June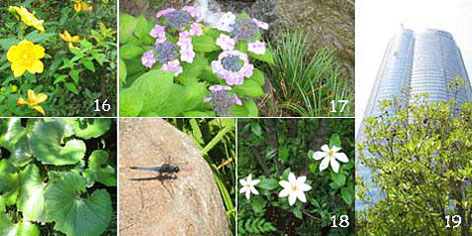 The mellow fragrance of gardenias, which grew in this place before its redevelopment, impart a sense of peace to garden visitors. Red and blue dragonflies dip and soar around Mohri Pond.
16. The quintessence
17. Hydrangea
18. Gardenia ☆
19. Japanese bayberry ☆
Existing trees and transplanted trees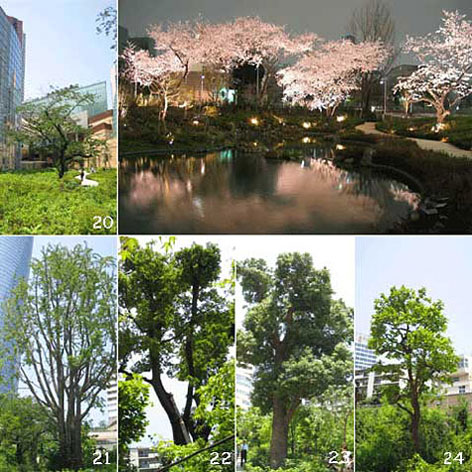 All of the trees are large and stately. Now and in the future, these important neighborhood residents will continue to stand guard.
20. Yoshino cherry ○
21. Gingko
22. Enoki
23. Camphor tree ○
24. Oyster ☆
What kinds of plants can be seen in other seasons?
Hydrangeas can be seen in the rainy season, along with maples in the summer, and sweet osmanthus in the fall. Although they may not bloom with the splendid colors of spring, there are many diverse plants that bloom throughout the 4 seasons of the year.
June and July

Lacecap hydrangea, linden viburnum, plantain lily, and zephyr lily flowers, maples, etc.

August and September

Lily turf, dwarf mondo grass, mizuhiki, and sweet osmanthus flowers, etc.

October

Sasanqua camellia flowers, fruiting of cleyera, acorns of oak trees, etc.

November

Leopard plant flowers, fruiting of longstalk holly, glabrous sarcandra, coral ardisia, linden viburnum, etc.
Garden History Timeline The Mohri Garden Reborn Life in Mohri Garden Plant Album